Survey Awards 2020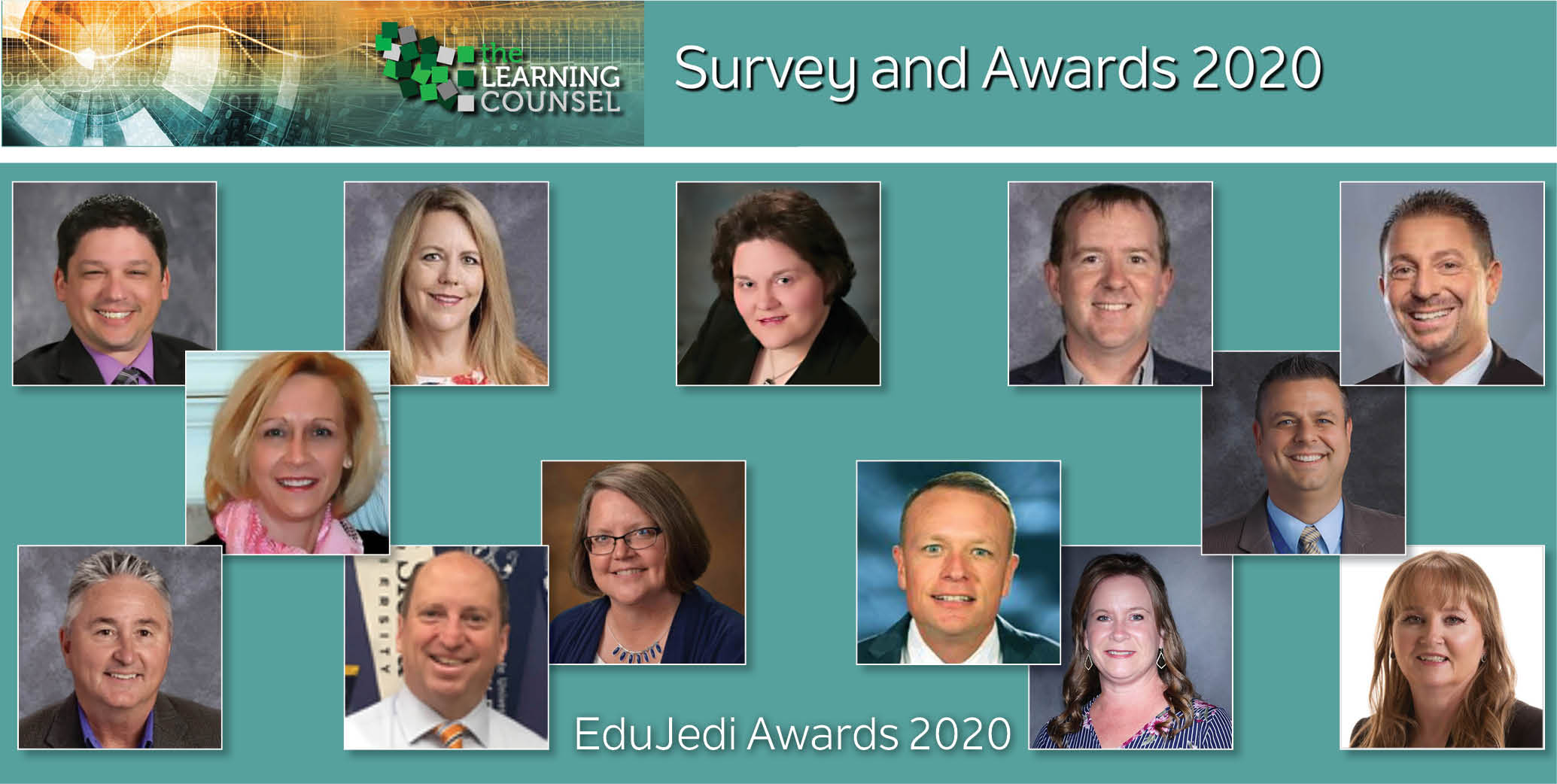 This year is clearly a landscape shift for educational technologies. It is important to remember how far we have come in only a few decades with technology to be able to still see our students via video, to both distribute instructional materials and watch them progress in software, to talk to them live from a distance and help them to learn. We must count our blessings for the modern tools that have saved learning in whole or in part for tens of millions of students. Now in its eighth year, the Learning Counsel's Digital Transition Survey had more than 32,000 schools and districts participate. Over 1,000 schools and districts made it to the review stage, and over 100 made it into final analysis. This is more than twice any other year. The finishers for EduJedi Levels being granted in 2020 are 65, more than four times the number of levels ever granted by the Learning Counsel and the EduJedi in any year of this survey. According to LeiLani Cauthen, CEO and Publisher at The Learning Counsel, "We are proud of every single educator and every single school who is doing their best to still provide learning in these challenging times, and the many who are pulling off better achievement no matter what."
NATIONAL SURVEY AWARD WINNERS
EduJedi Knight Awards
An EduJedi Knight shows intentional refinement of ed-tech tactics in play, including a good degree of integration between systems and types of apps, some administrative and personalized learning workflow enablement. Experience focus has moved beyond in-classroom redesign only to involve more spaces, more flexibility, and has emboldened initial changes in instructional/tech staff. Tech is embedded, not a separate "subject" only. Leadership is leveling up to challenge norms and create even better achievement results. The following have been awarded EduJedi Knight status:
Lammersville Joint USD, Mountain House, CA
9 Schools 6,000 Students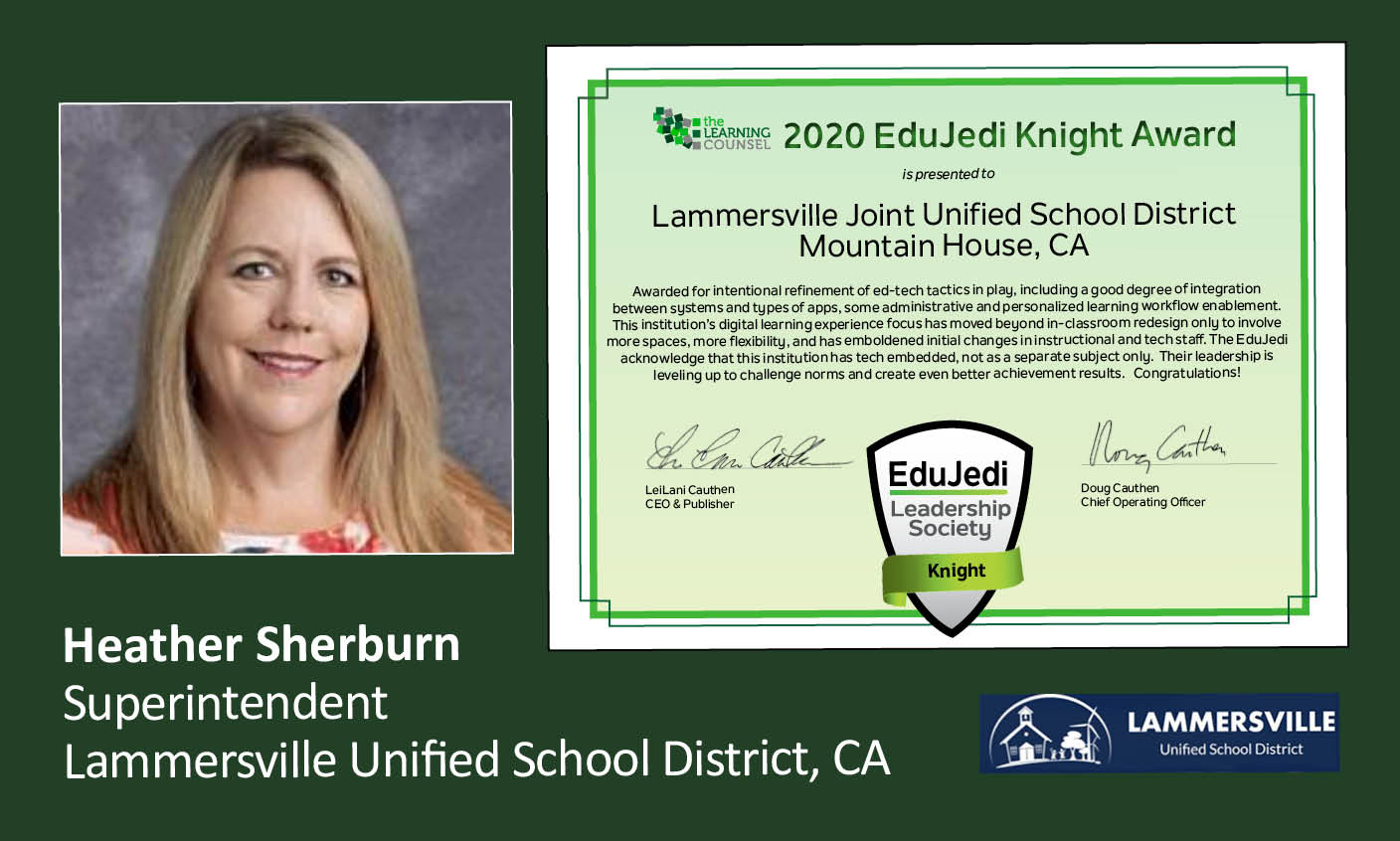 One of the most progressive thought leaders of all districts, Lammersville leads through tech. With uniquely integrated assessment platforms, they use aggregated data to drive a comprehensive system of learning, not just class-room learning. Their blended environment manages an altered used of both spaces and time. This district also runs a year-long teacher Blended Learning Academy for high standards in digital teaching. Tech List: Canvas, Google Classroom, AERIES, GoGuardian, Edgenuity, Laser-fiche, Escape, eduCLIMBER, Illuminate, PearDeck, Zearn, ST Math, iRead, PLTW elibraries, MobyMax Assistments, Edulastic, Formative, Newsela, Mys-tery Science, Zoom, Turnitin, Raptor, Microsoft Office, Seesaw, Padlet, Cam-tasia Screentastic, HMH, Benchmark, DBQ, World Languages, Edlio, Flextime Manager, Google, Kahoot!, Naviance, Khan Academy, Stanford Middle School Science Project Curriculum, Discovery Math Techbook.
Meriden Public Schools, Meriden, CT
13 Schools 8,500 Students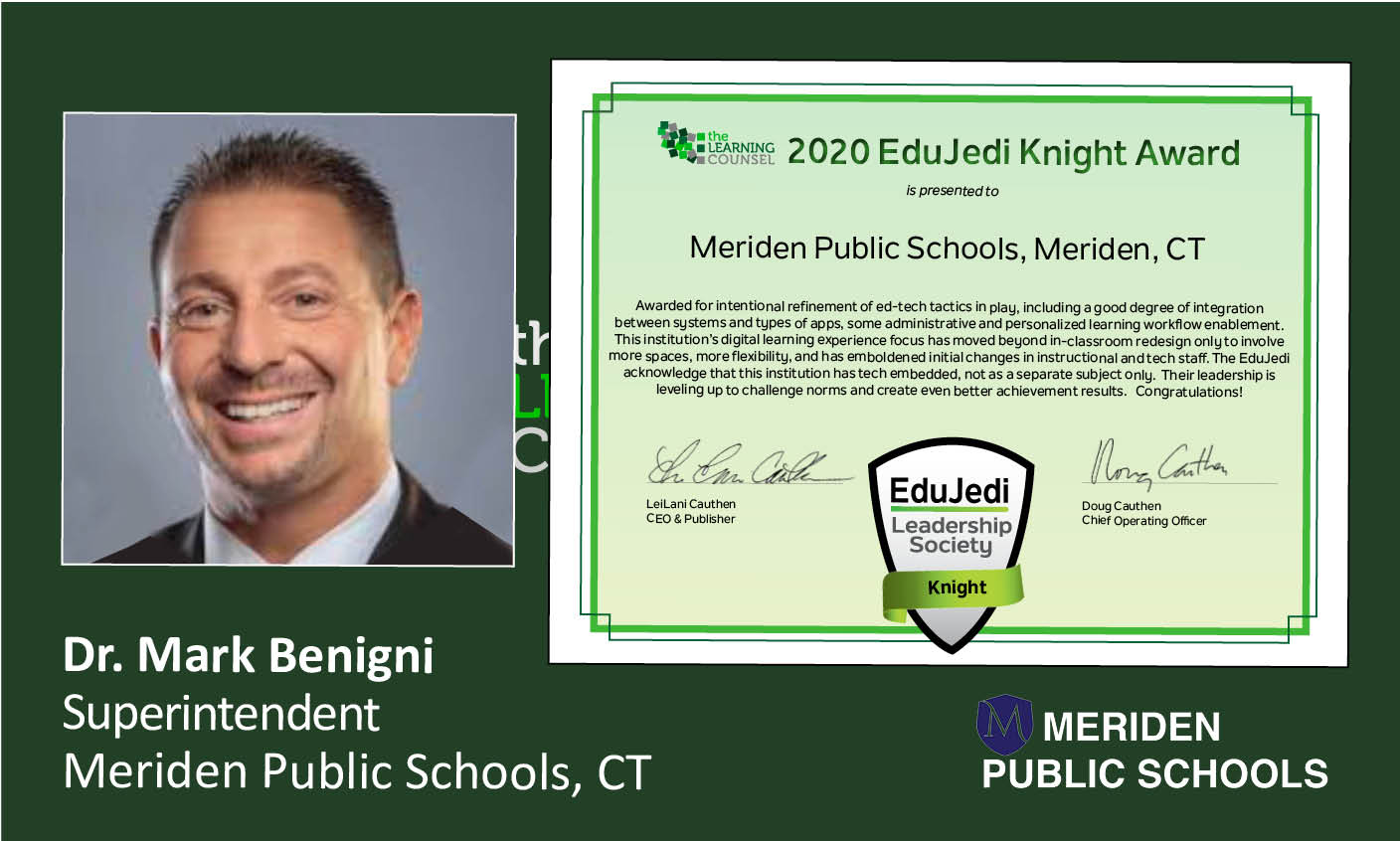 With a robust digital transformation using the collaborative efforts of their Board of Education, their innovative Superintendent, and key tech and cur-riculum staff, this district has undergone bold shifts in teaching and learning structure well beyond the norm. Tech List: Board Docs, ClassLink, Decision Ed, Frontline, Gaggle, GoGuardian, Naviline, HelpDesk, Novatime, Power School, SmugMug, iReady, Discovery Education, Odysseyware, EqualLevel, Google, Imagine Learning, Kajeet, Mc-Graw Hill Education -MyMath, Glencoe Math, Algebra I, Geometry, Algebra II, Networks and Discovering World Geography, Moodle, Musiquest, MyON, NoRedInk, Odysseyware, Reading A-Z, ParentSquare, Prodigy, Legends of Learning, Mystery Science, MobyMax, Vocabulary.com, Inspire Science, Reading Plus, Houghton Mifflin Spanish Digital Textbook, Cambridge Elevate -Latin, Study Sync District online administrative tools created for us by our local vendor: Building Rentals, Conference Scheduling Tool, Curriculum Time Form, Directory, District Calendar, Lunch Tally Tool, PolicyTool, Sub Request Tool, Curriculum Payment Tool, Teacher Evaluation Tool, Transportation Tool, Administrators Calendar Tool, Student Account Search Engine, Technology Meeting Request Tool, New Course Name Change Tool.
Mountain House High School, Mountain House, CA
1 School 1,600 Students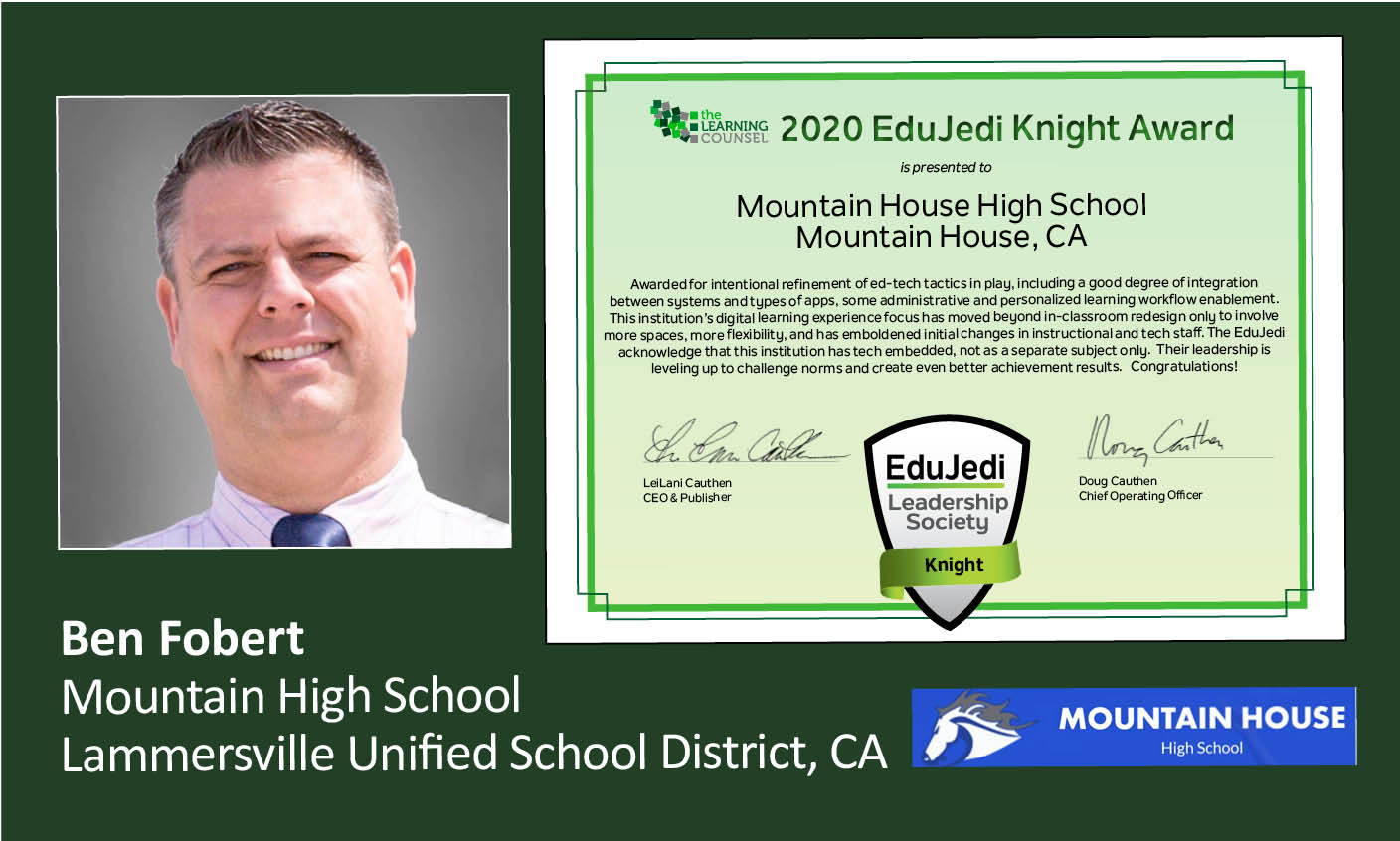 With a "Learning Commons" that is both physical and digital, Mountain House High School is an exemplar of hybrid learning. With a thoroughly reimagined use of space and time, they have refined the art of truly flexible service to the disparate needs of all students. Mostly remote, partially re-mote, and on-campus learning blends students who only arrive minimally but may still be included in sports and extra-curricular activities, teacher office hours mid-day, rolling drop-off time windows, and more. A mastery-based curriculum includes a wide number of digital resources to personalize every student's learning. Tech List: Adobe Spark, Follett Destiny, Edgenuity, Nearpod, Formative, Ka-hoot, Vernier, ProQuest, Canvas, and many others.
Pickerington Local School District, Pickerington, OH
16 Schools 10,850 Students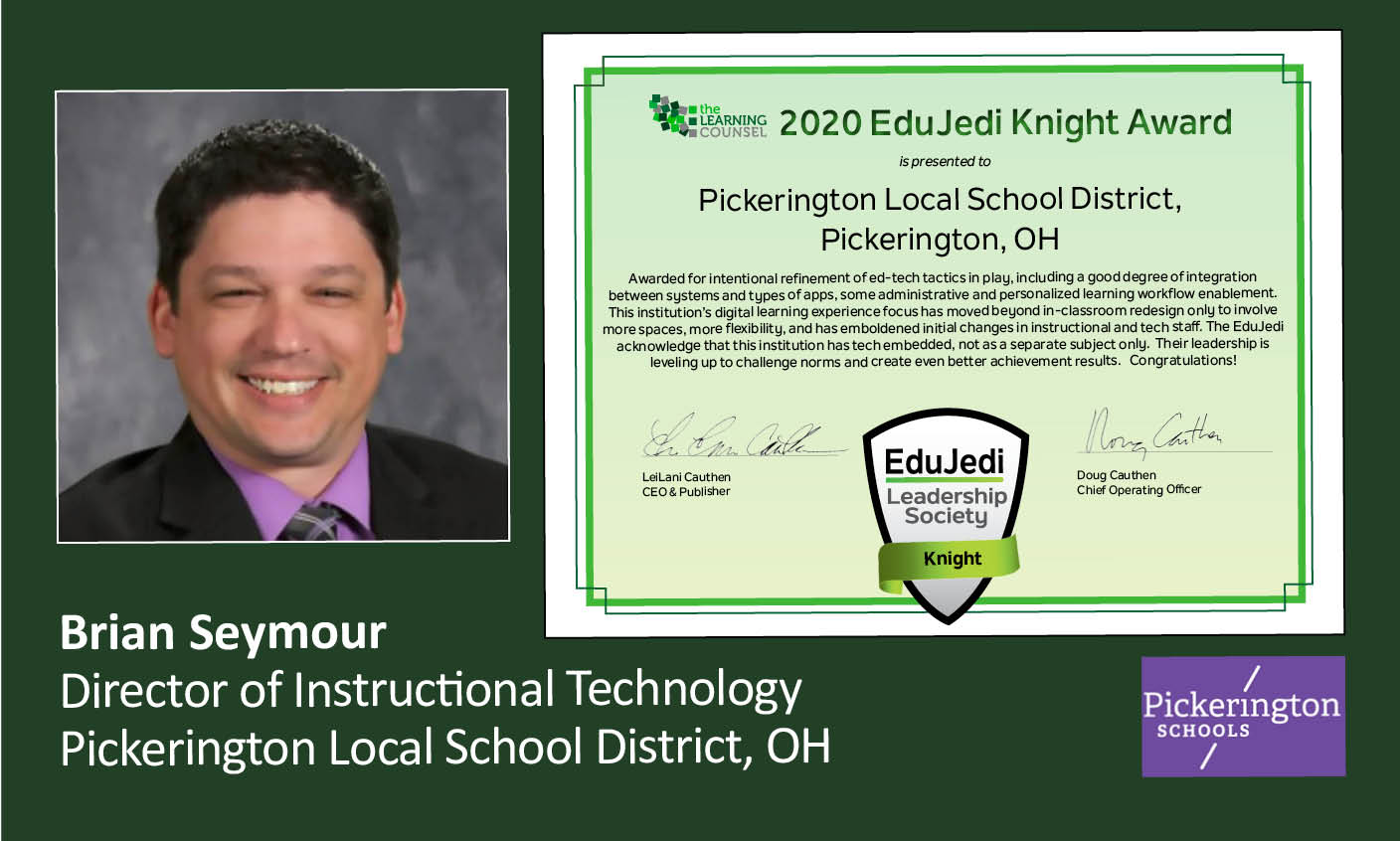 The first district to achieve Knight status with the unique play of "TraDigital," both a traditional and digital interweaving at scale. With a complete 1-1 of devices, and 80% of teaching and learning capable of working digitally, this district has a collaborative tech and curriculum staff that keeps driving up tech proficiency to drive learning achievement. Cross-building teaching teams show a mutation in structure to provide rapid refinement of methods to reduce distraction and focus teaching attention on human qualities of direct instruction. Tech List: Google, Classlink, Clever, Illuminate, ST Math, Hapara, Overdrive, Peardeck, Edulastic, ESGI, McGraw-Hill (ALEKS), iReady, Infinite Campus, Read&Write, Imagine Learning, Typing.com, WeVideo, EdPuzzle, many others
EduJedi Achiever Awards
An EduJedi Achiever demonstrates increasing screen/live teaching blended learning creating a magnet for student attendance. There is in-classroom redesign with some new staff supporting new instructional ed-tech function. There is an extension of offerings to support varied student and/or community needs and schedules and various digital systems and resources including both discrete and adaptive digital curriculum are becoming integrated. Points of proven growth are creating an increasing culture of achievement. The following have been awarded EduJedi Achiever status:
Buckeye Union High School District, Buckeye, AZ
3 Schools 3,070 Students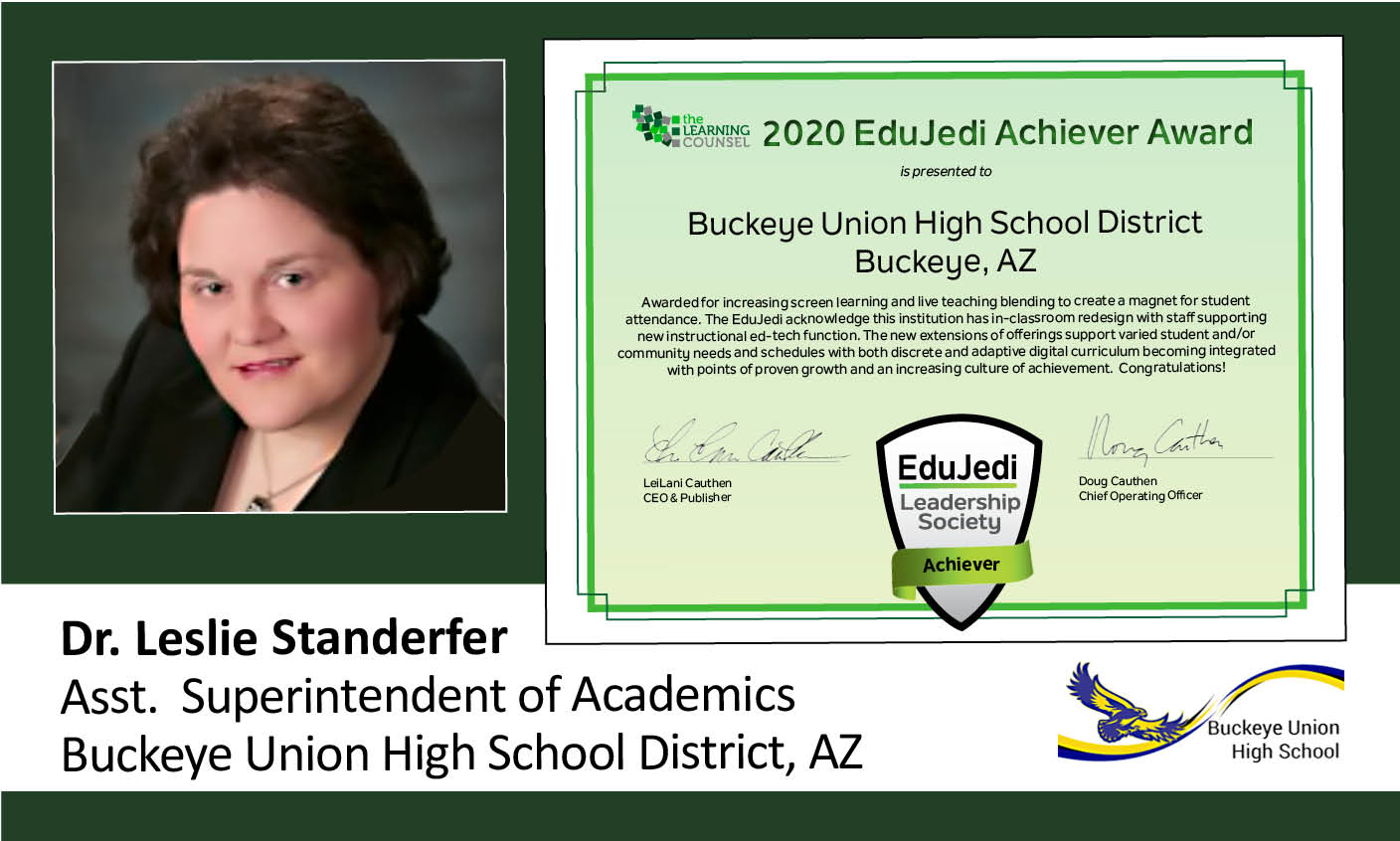 This district offers training on all their digital communications suites plus their LMS and SIS and numerous tool apps. Digital with 1-to-1 for all students for several years, this district is now working out the kinks in providing distance learning for all students as needed. Tech List: Power School, I-Ready, many other digital resources.
Peru Central School District, Peru, NY
3 Schools 2,000 Students
With the knowledge that schools across the globe will soon place students at the center of their own education pathways, this district is relying more on technology to facilitate and differentiate learning experiences. Their digital transition came overnight as COVID hit New York. With a special two-weeks professional development mini-camp, they prepped and ran with a redesigned digital delivery for all online learning. Tech List: Pebble, Brainpop, Kids A-Z, Type To Learn, PBS Kids, GoNoodle, ABCYa, BookFlix, CVCPop, Starfall, XtraMath, Prodigy, Wonders, Symbaloo, FunBrain.
Pinellas County Schools, Largo, FL
198 Schools 101,427 Students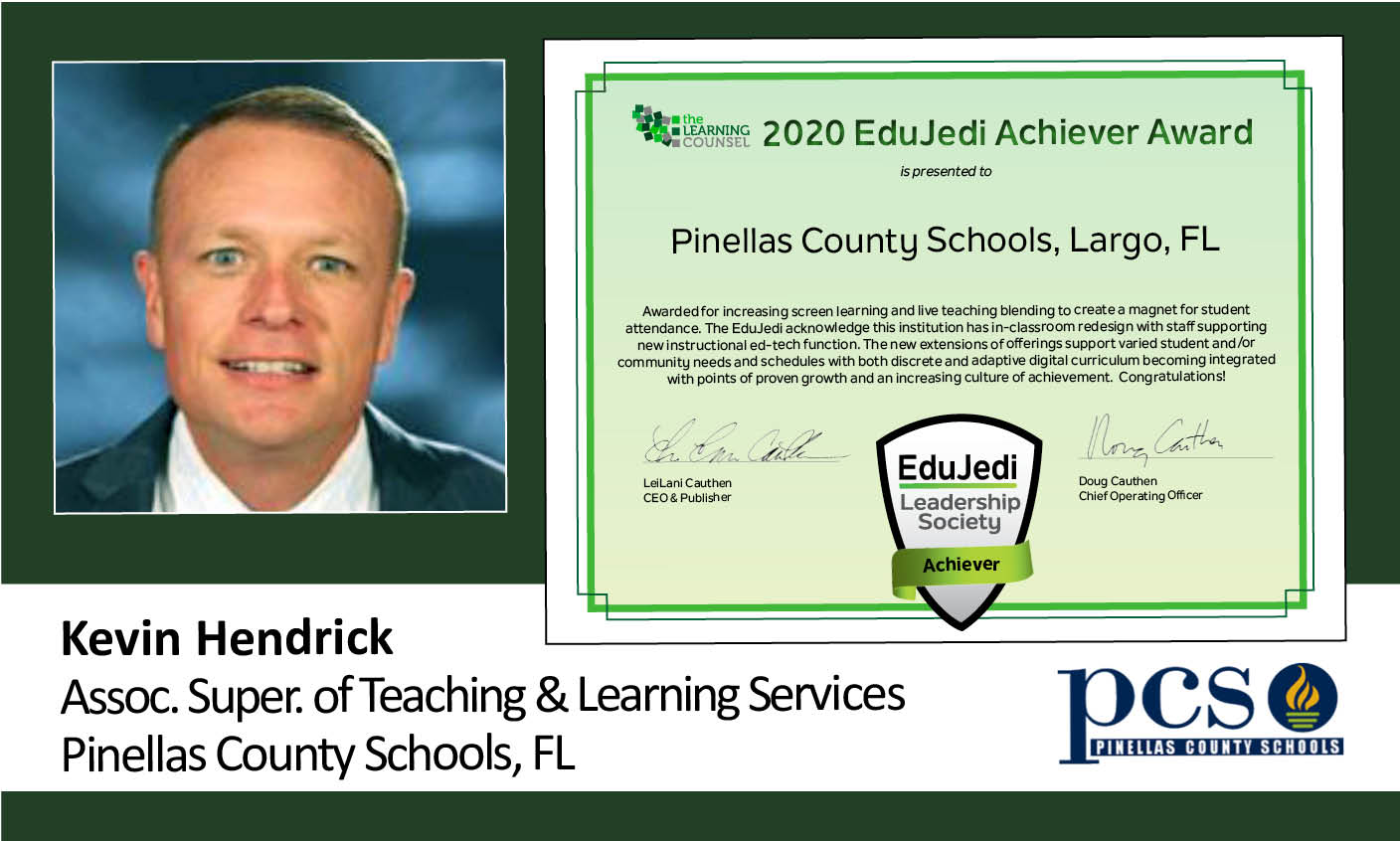 With a Personalized Learning Pathway administered through a new online platform, this district helps students navigate their path to academic and career success. They also provide teacher coaching for tech integration to increase student engagement and continuously work on implementing tech referendum projects. Liaison work between all departments shows an evolution to seamless design. Tech List: Blackboard, HMH, Curriculum Associates, McGraw Hill, National Geographic, Microsoft Office 365, Safari Montage, Clever, SMART Notebook and SMART Learning Suite online, SMART Boards, Epson interactive projectors, NearPod.
Other EduJedi Achiever Awardees:
Dimensions Collaborative School, Escondido, CA Katy ISD, Katy, TX
EduJedi Innovator Awards
An EduJedi Innovator shows innovative use of ed-tech to engage students and the community. The Innovator is trend-aware and utilizes various digital systems and resources to create gains; moving through change-management with students, staff and organizational supports. Progress has been made on working on points of achievement improvement in critical subjects. The following have been awarded EduJedi Innovator status:
Denver Public Schools, Denver, CO
207 Schools 92,000 Students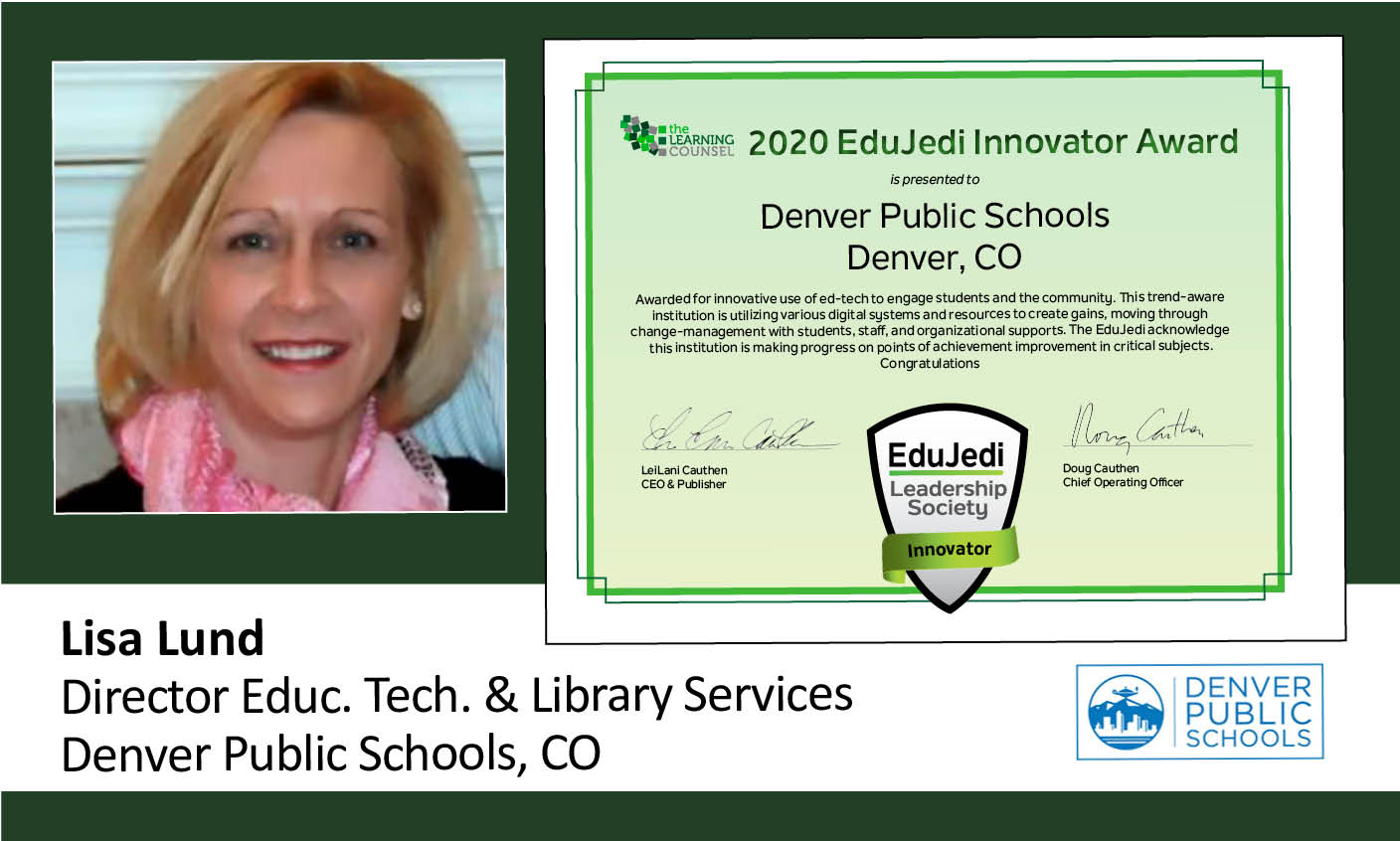 This district is working hard to provide both students and parents with high-value information dashboards. By using technology as an enabling force for parent and student engagement, they have gained educator effectiveness, operational efficiency, student safety, and student achievement. Tech List: Infinite Campus, Google, Lawson S3, Infor/GHR, LEAP & SLO, Microsoft.
Galena Park Independent School District, Houston, TX
24 Schools 22,300 Students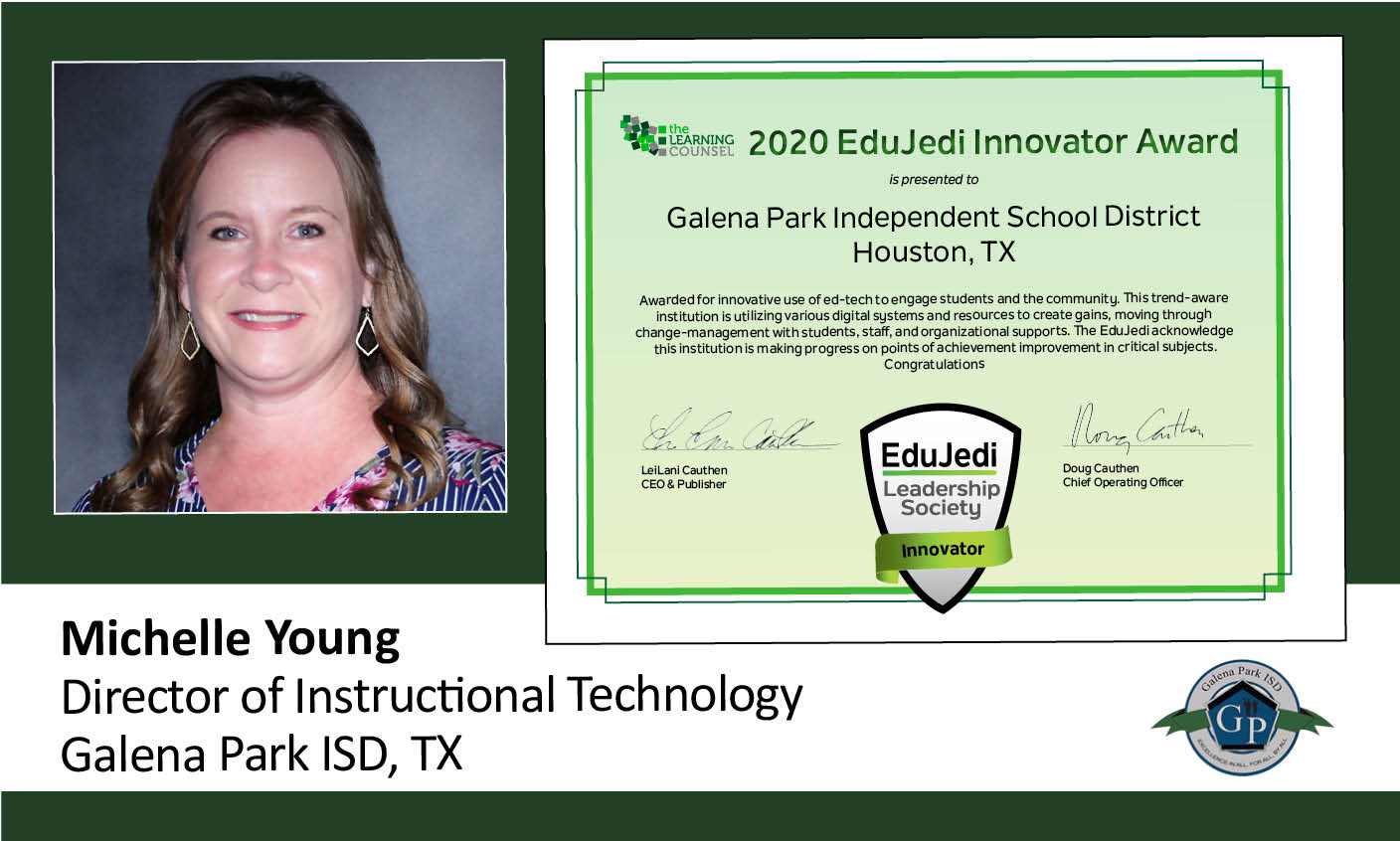 With a new hybrid schedule, parent and student orientations for digital learning, and digital activities added comprehensively across the curriculum, this district is using technology to drive higher achievement. Tech List: Digital textbooks, On Data Suite, Eduphoria, Microsoft, Google for Education, SuccessEd, SchoolStatus, TEAMS, TipWeb, LightSpeed Content Filter, Lightspeed MDM, Skyward, Test Hound, RaaWee, DocuNav, ForeCast5, SchoolDude, ULS, Pearson Clinical, ClassLink, library software, IDM, VoiP Timeclock, DreamBox, Reading A-Z, iStation, iReady, STEMScopes, CommonLit, Edgenuity, Khan Academy,DBQ Project, Newsela, EdPuzzle, Flipgrid, NearPod, Quizziz, Pear Deck, Desmos.
Keller Independent School District, Keller, TX
43 Schools 35,352 Students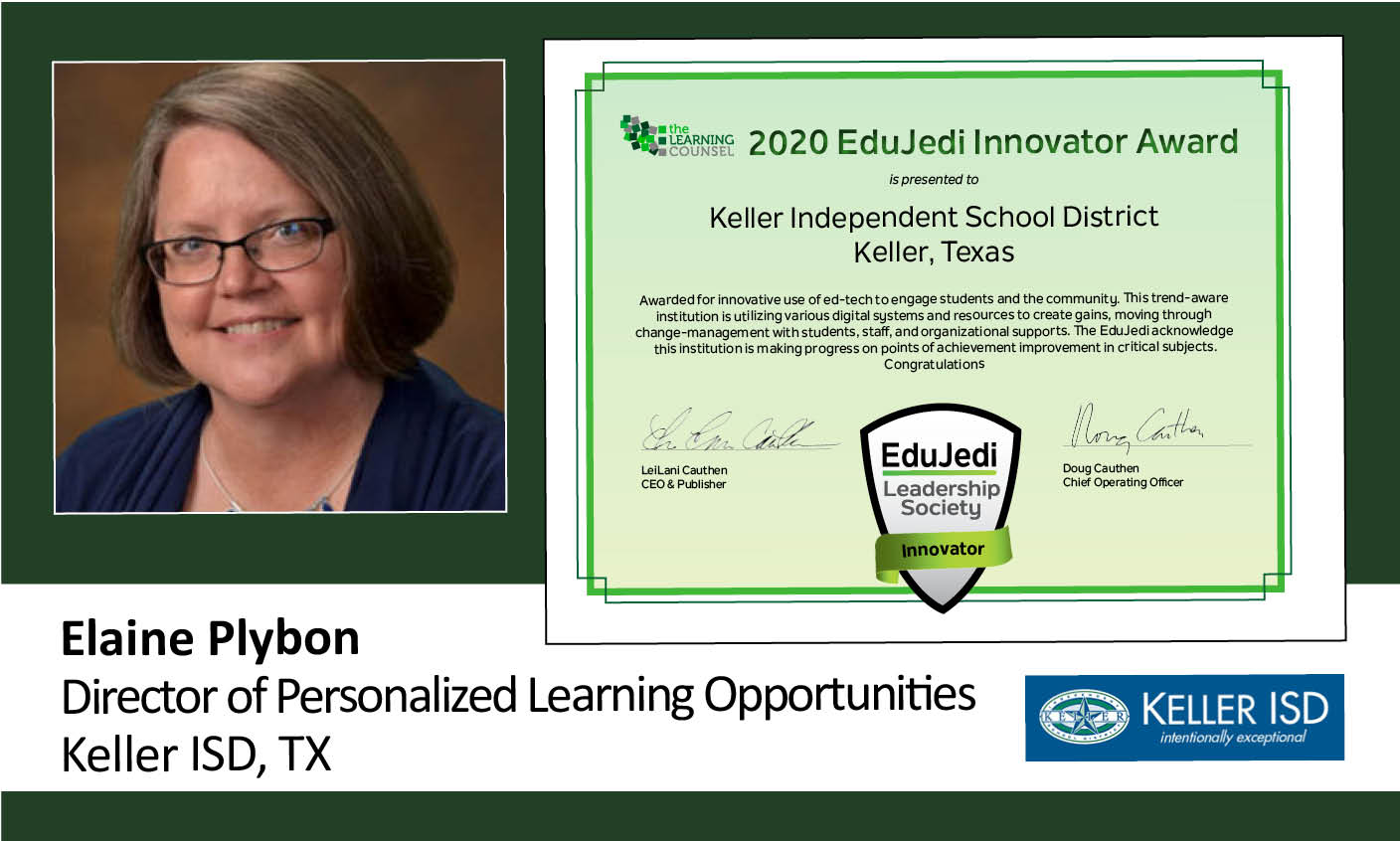 This District's leadership established the "Remote Ready in KISD" badging program, virtual learning and educator training towards a total technology revolution in Keller ISD. Tech List: Aeries SIS, eSped, Nearpod, Canvas, Google Suite (including Classroom), SeeSaw, EdPuzzle, Brainpop, Edutyping, Edgenuity, FLVS, Albert IO, Discovery Education.
Central Bucks School District, Doylestown, PA
23 Schools 180,000 Students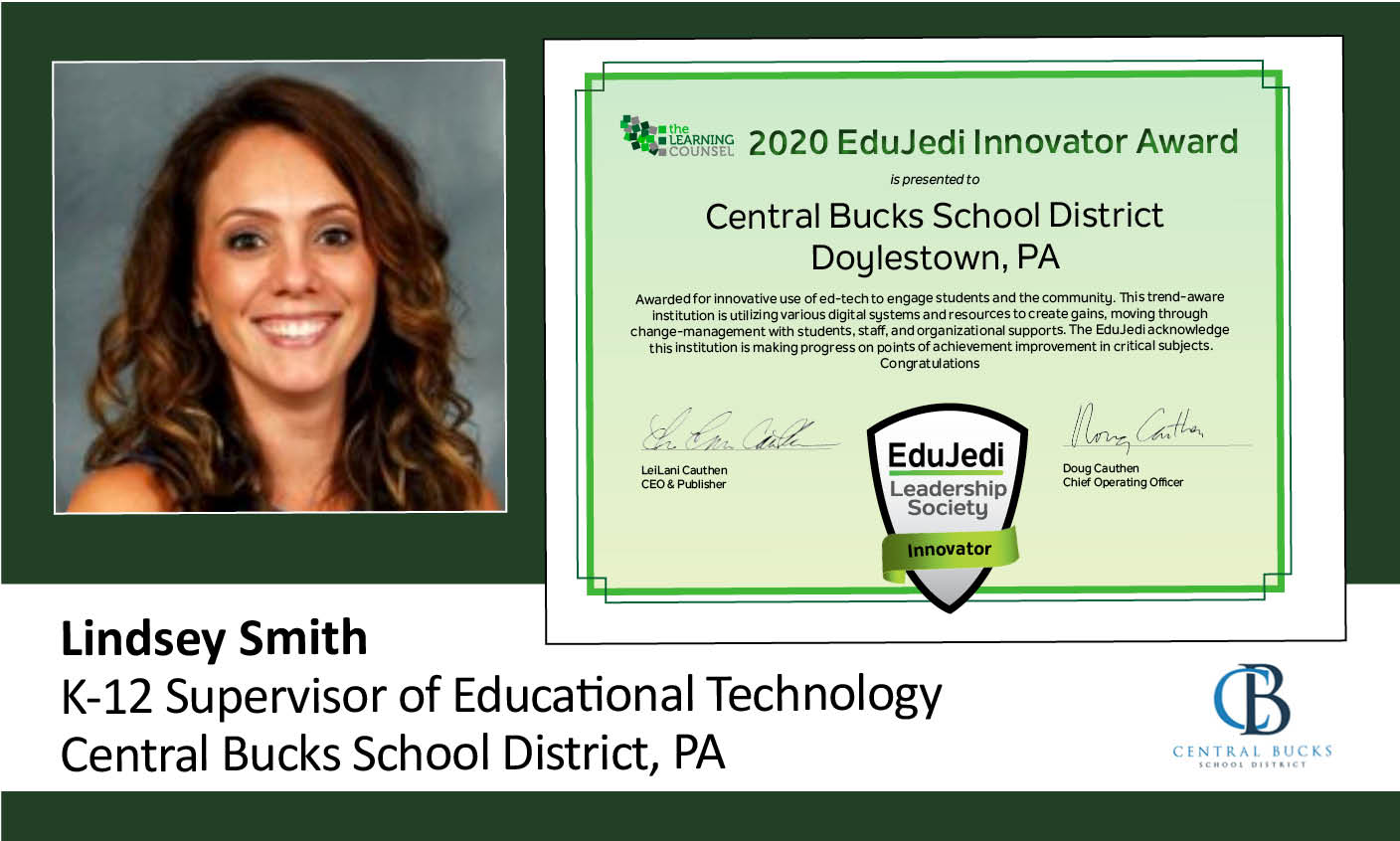 With students now fully mobile between on-campus and remote, this district has made significant progress redefining and reframing learning to be digital, including a full complement of tech deployments of both hardware and software. With new attention on the workflow of all the digital learning, this district is on a fast evolution. Tech List: Microsoft, Google, Freckle, Scholastic, TCI, Kahn Academy, Reading Horizons, Xtra Math, Easy Bridge, Connect Ed, BrainPop, Code.org, EdYourFriend in Learning, (Spanish Program), and many others.
Other EduJedi Innovator Awardees: Franklinton Elementary School, Franklinton, NC North Woods Career Prep HS, Columbus, OH Poudre School District, Fort Collins, CO
EduJedi Gainer Awards
An EduJedi Gainer has Intentional ed-tech tactics in play, deploying various digital systems and resources while executing change with students and teachers. The Gainer arrests any decline in engagement while already gaining ground with the community; headed for academic achievement growth. The following have been awarded EduJedi Gainer status:
Medina Valley Independent School District, Castroville, TX
7 Schools 5,900 Students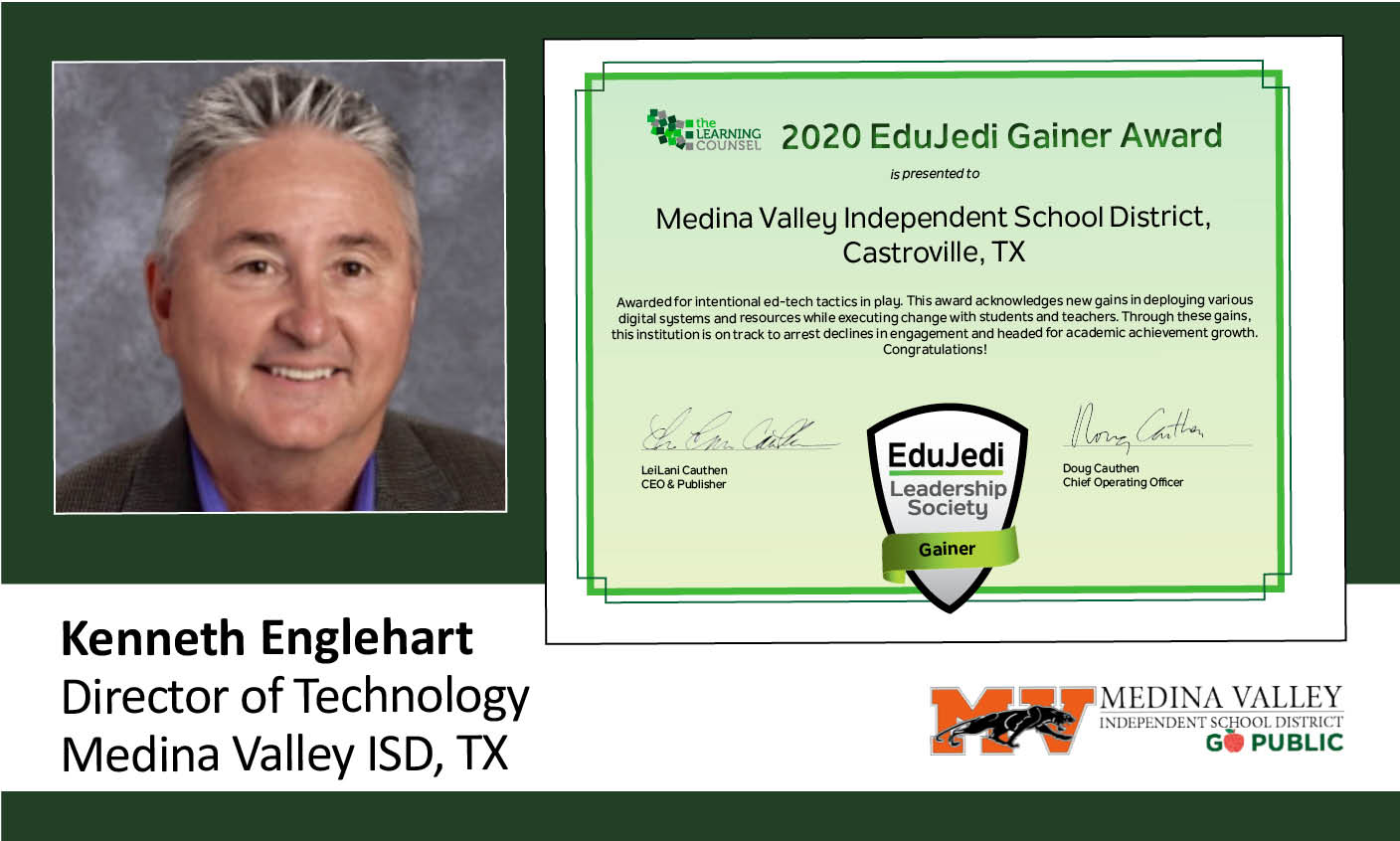 With coverage models for digital curriculum in core and supplemental at 90%, this district brought forward the distance learning with mixed instruction successfully. Tech List: Classlink, Zspace, Seesaw, Google Classroom, A+, ABC mouse, Brainpop, Code.org, Discovery Education, Education Galaxy, Flipgrid, Flocabulary, Follet Community,Imagine Math, Istation, IXL, K5 Technology Curriculum, Kahoot, Learn to type, McGraw Hill, Nearpod, PBS Kids, Prodigy Math Game, Naviance, TeachingBooks, K-12 Summit, TumbleBookLibrary, IXL, Splash Math, Learning Without Tears, Read Naturally, StudiesWeekly, SavvasEasyBridge, XtraMath, ABCya!, Epic!, Eduphoria, Duolingo.
Bay Area Technology School, Oakland, CA
1 School 360 Students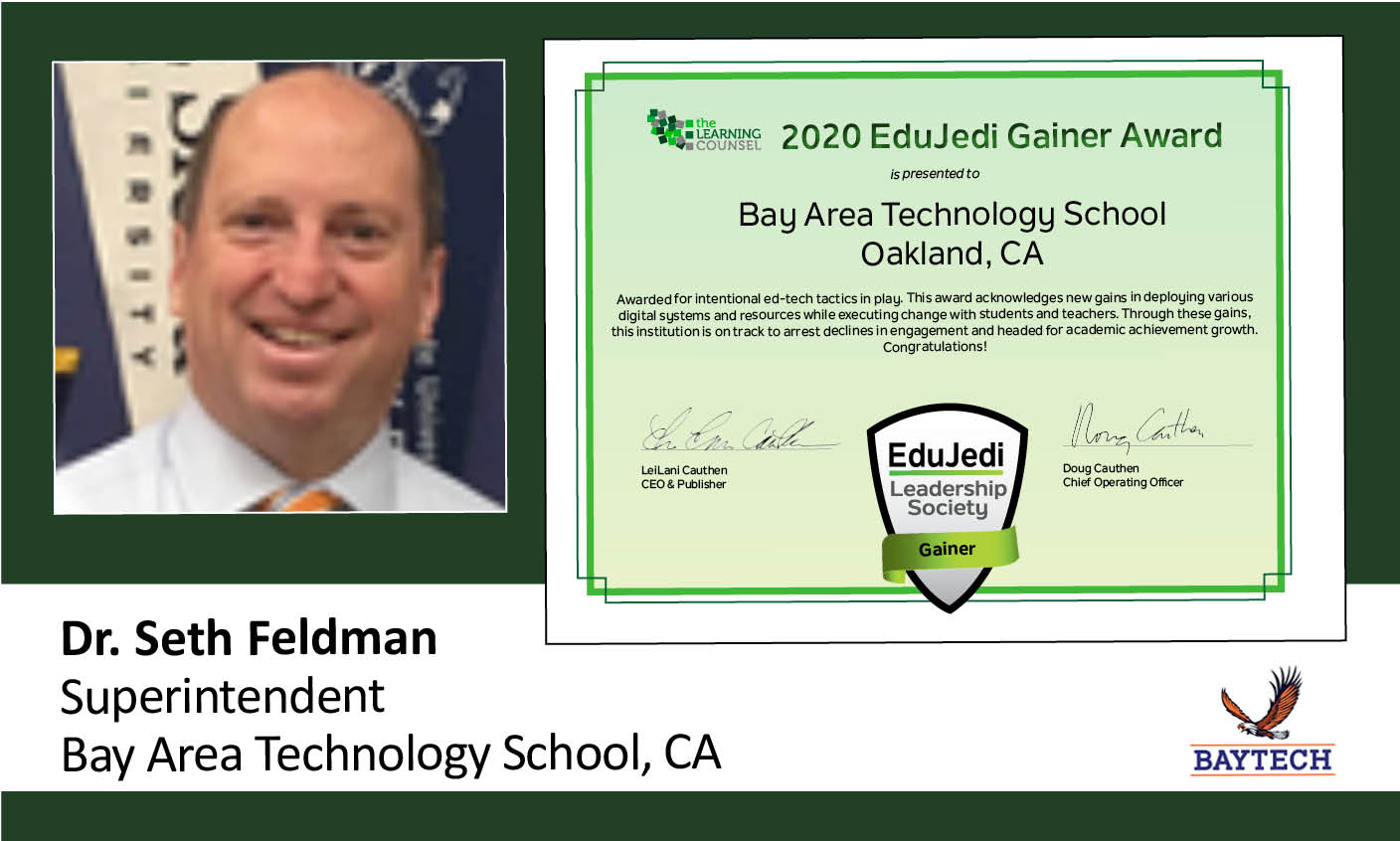 Students have been well accustomed to working online and the school is advancing every student as much as two grade years in ELA and Math routinely. Despite many languages and major cultural change, the school achieves results with approximately 25% free digital resources and 75% paid professional resources. Tech List: iReady, IXL, Aeries.
Bunker Hill CUSD #8, Bunker Hill, IL
2 Schools 620 Students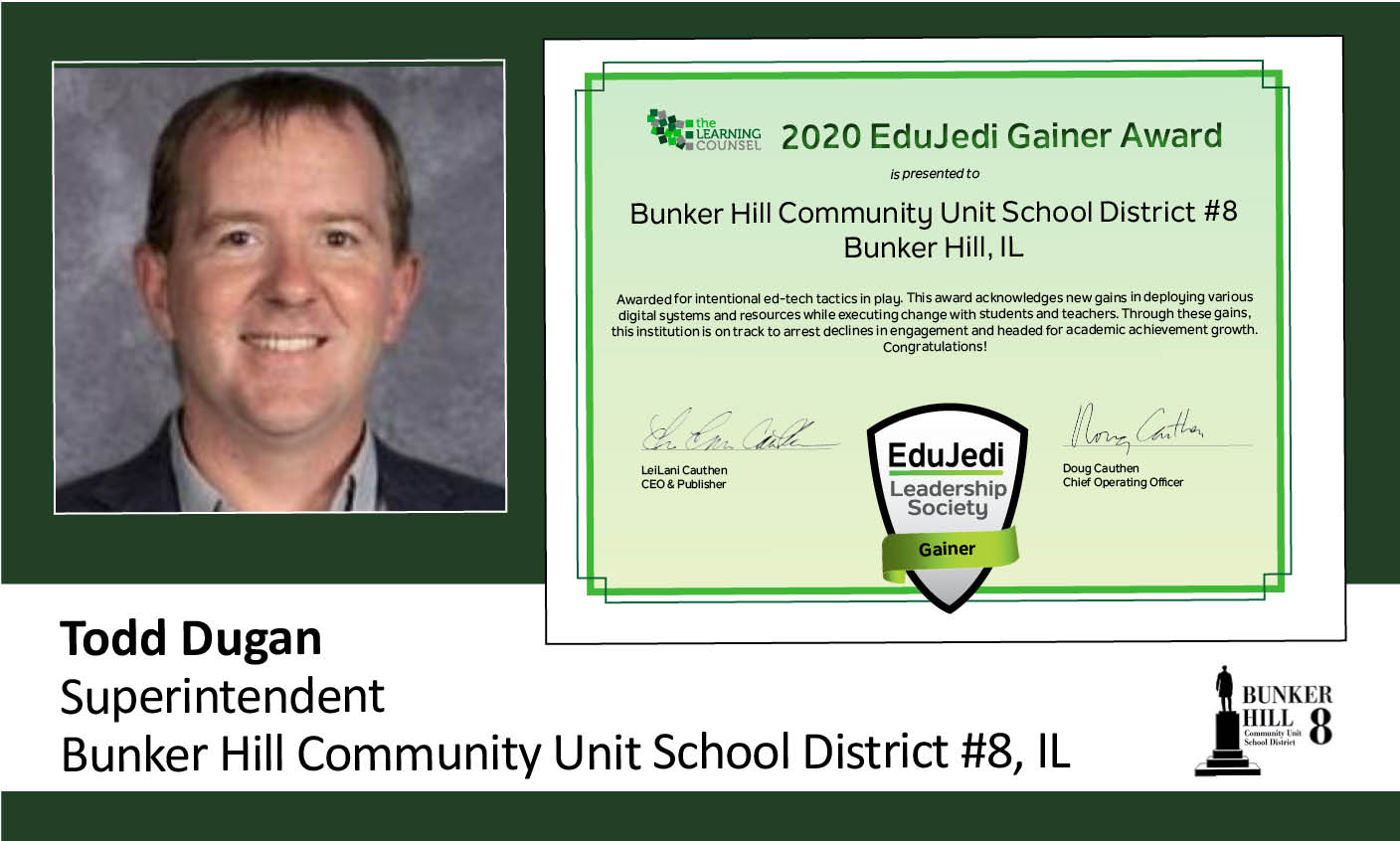 With an inquisitive and strong Superintendent leading, this district has moved to a hybrid model and is on their way with their own mobile app. Tech List: Google, Microsoft, other digital resources.
Oneida School District, Malad, ID
5 Schools 900 Students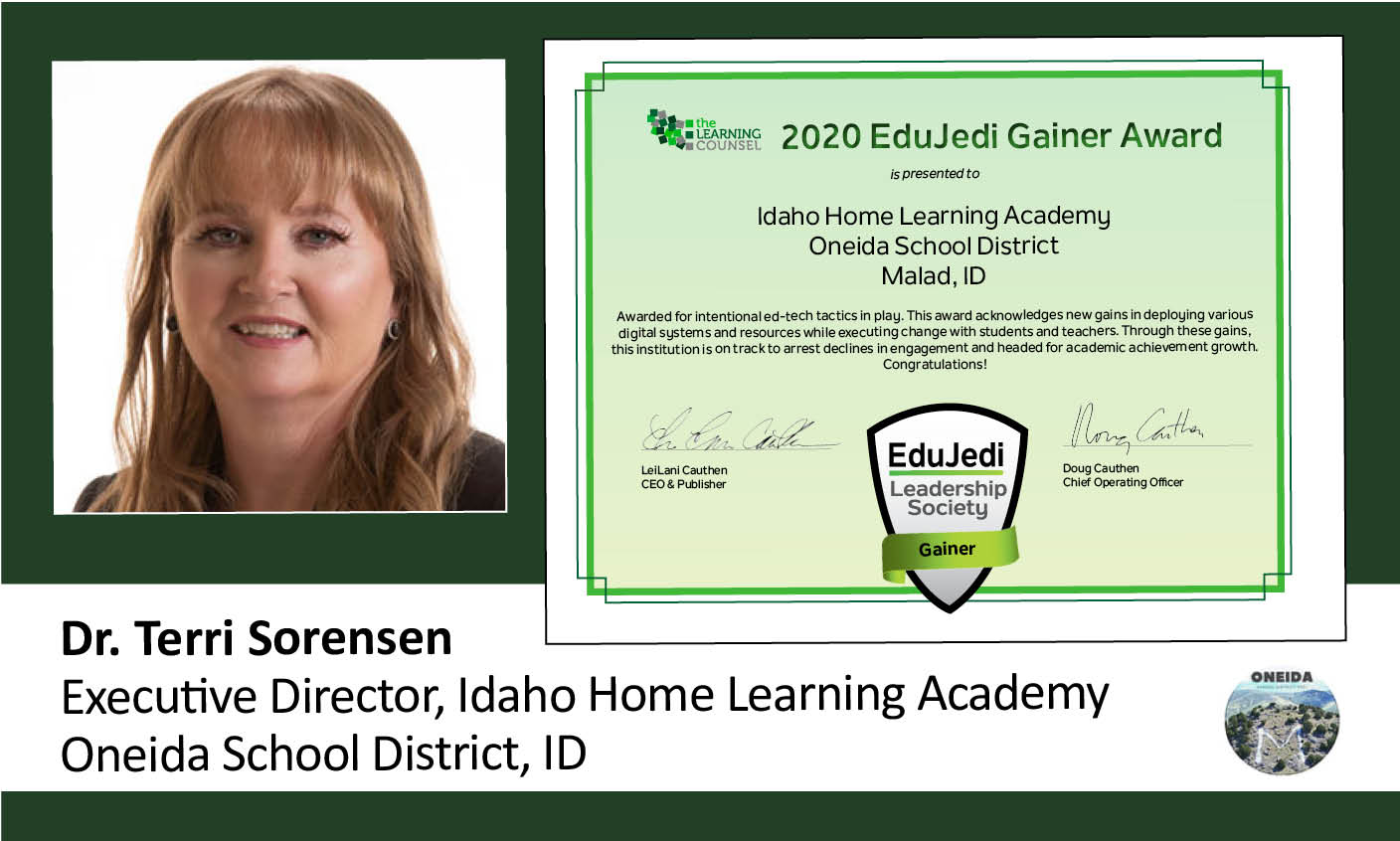 This district has just completed a 1-to-1 device distribution and started using a learning management system to deliver student assignments and support. Their short-term indicators show positive academic growth. Tech List: Power School, I-Ready.
Other EduJedi Gainer Awardees:
Adrien Block Intermediate School 25, Flushing, NY
Albuquerque Public Schools, Albuquerque, NM
Alief Independent School District, Houston, TX
Boise City Public Schools, Boise City, OK
Brooklyn Urban Garden Charter School, Brooklyn, NY
Celina ISD, Celina, TX
Clarksville-Montgomery County School System, Clarksville, TN
Classical Academy, Clifton, NJ
Culberson County-Allamoore ISD, Van Horn, TX
Ector County ISD, Odessa, TX
Elizabeth Public Schools, Elizabeth, NJ
ESC Region 2, Corpus Christi, TX
Estacada School District, Estacada, OR
Fort Towson Public Schools, Fort Towson, OK
Fredonia-Moccasin USD #6, Fredonia, AZ
Giant City CCSD130, Carbondale, IL
Hammond Westside Montessori School, Hammond, LA
Hinton Public Schools, Hinton, OK
James W. Lilley Elementary School, Sicklerville, NJ
Johann Wolfgang von Goethe Elem. School, CPS, Chicago, IL
Kenilworth Science & Technology School, Baton Rouge, LA
Lakeview Junior Senior High School, Campti, LA
Leeds City Schools, Leeds, AL
Lighthouse Charter School, San Antonio, TX
Marion County School District, Columbia, MS
Metro Nashville Public Schools, Nashville, TN
Montgomery County Public Schools, Rockville, MD
Mount Carmel Elementary School, Cedar Grove, IN
MSAD 17 Guy E Rowe Elem., Oxford Hills SD, Norway, ME
New Horizon School and Learning Center, Santa Rosa, CA
Nixa Public Schools, Nixa, MO
Northshore Charter School, Bogalusa, LA
Pinello Elementary School, Colorado Springs, CO
Pontiac Academy for Excellence, Pontiac, MI
Prince George's County Public Schools, Upper Marlboro, MD
Reardan-Edwall School District, Reardan, WA
Richland1, Columbia, SC
Rochester City School District, Rochester, NY
Sandpoint High School, Lake Pend Oreille SD #84, Sandpoint, ID
Schleicher ISD, Eldorado, TX
Schulenburg ISD, Schulenberg, TX
Taylor County Schools, Grafton, WV
Taylor Independent School District, Taylor, TX
Virtual Academy of Lafourche, Thibodaux, LA
Wichita Falls ISD, Wichita Falls, TX

2020 Survey Briefing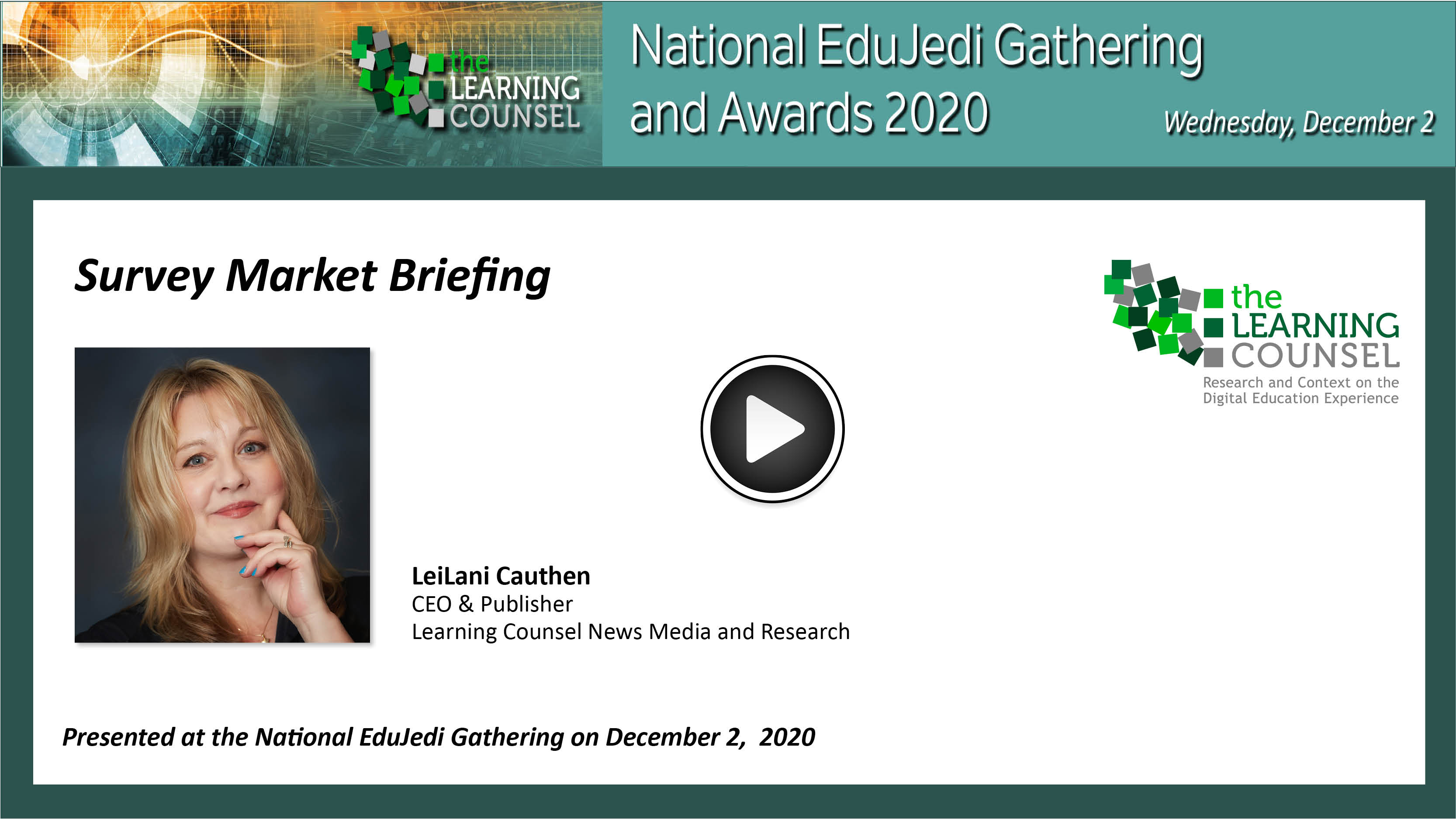 Articles
Survey Market Briefing with CEO LeiLani Cauthen of the Learning Counsel
The 2020 Digital Transition Survey Results are in: Just How Large is the K12 Ed-Tech Market?
Get in Touch with the Future of Learning (Trends Horizon Report)
Tech Spending Predictions for America's Schools in 2021, Amid Enrollment Losses
5 Recommendations for Administrators in 2021: The New Normal is Not Traditional Schooling, it's Logistics
Selling EdTech's New Normal
The Delicate Question of Teacher Digital Transition
Don't Read This unless You're a Superintendent: Hybrid Learning is Not What you Think
Reopening Schools but Emptier, Physically Distanced, and still some Remote Students - The State of K12 Schools in America
Press releases
2020 Digital Transition Survey Results Press Release
EduJedi Leadership Society Grants Awards at Learning Counsel's 2020 National EduJedi Gathering
Award Recipients
2020 Awards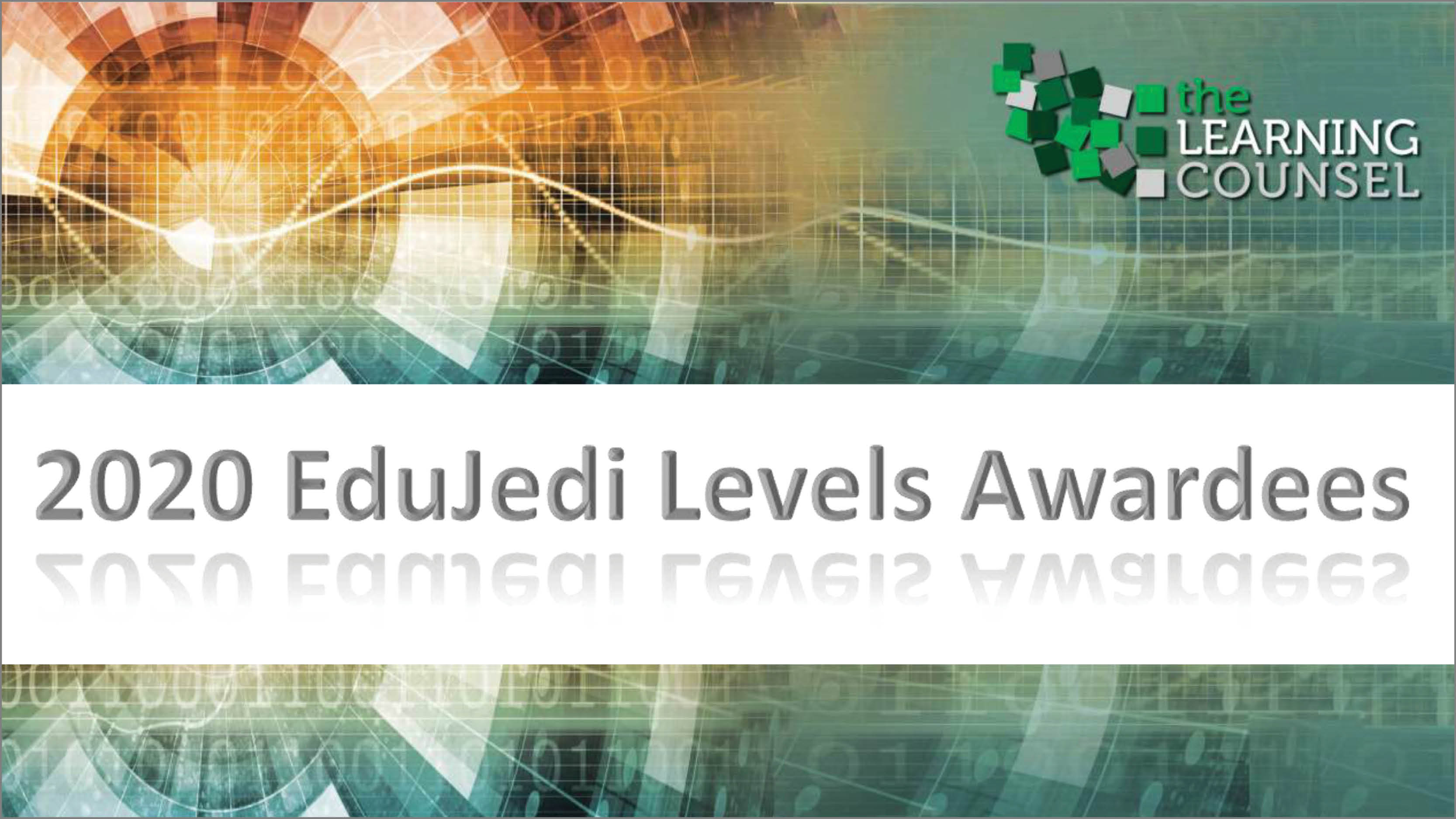 Click image to see profiles of each winner.