Curriculum Associates' i-Ready was built from the ground up to connect assessment to instruction and help students get on the path to grade-level proficiency.
Teachers administer the i-Ready Diagnostic at the beginning of the school year to chart a course for digital instruction and to set an i-Ready Personalized Instruction path that's individualized for each student. The program then generates intuitive reports that show how students are performing relative to grade-level expectations and peers nationally. The reports give teachers insight into what specific skills students need to develop, in addition to instructional resources targeted to these skills to support growth.
Teachers administer the Diagnostic again at the mid-year point and at the end of the year. These assessments help teachers understand how students are progressing toward their differentiated growth goals and grade-level proficiency. Students' lesson paths are also updated based on their most recent Diagnostic results to ensure they are receiving the instruction where it's needed most. Throughout the year, i-Ready Personalized Instruction is used to engage students in individualized online learning as they work toward their goals.

Formats/platforms used:
i-Ready is an online program that can be accessed through the most commonly used browsers and operating systems.

Primary website's URL:
CurriculumAssociates.com/i-Ready

Problem solved:
i-Ready helps teachers address unfinished learning and accelerate student growth to give students access to grade-level learning. The program's adaptive assessments deliver individual learning paths for each student with lessons that are grounded in research, informed by experts, and proven to support student growth.
Teachers can use the program to monitor i-Ready Stretch Growth goals, which are ambitious yet attainable learning goals for students. These are especially important given students' current levels of reading and math performance after the pandemic and given that average student growth will not be enough for students to "catch up."
As evident by research, the i-Ready Stretch Growth goals are highly effective – if students met their goals for two consecutive years, they were found to be on a path toward proficiency, regardless of their starting grade-level placement. For example, 98% of Grade 3 students who achieved stretch growth in math two years in a row achieved a grade-level placement.

Grade/age range:
The program combines powerful assessments for Grades K–12 and effective and motivating instruction for Grades K–8.

Core or supplemental:
Supplemental

Standards:
i-Ready is used for both reading and math. The program was built for the Common Core State Standards and is highly correlated with leading national and state summative assessments.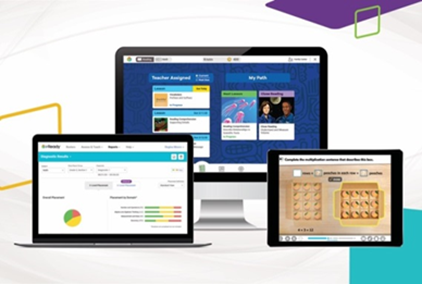 Lesson time needed:
The i-Ready Diagnostic is administered three times per year. For ongoing instruction based on the Diagnostic results, it is recommended that students use the program for 45 minutes per subject per week, and pass at least 70% of completed lessons.

Pricing model:
Curriculum Associates offers pricing packages to meet the needs of districts and schools. Pricing is approximately $30 per student which includes access to both the assessment and personalized instruction components of the program.

Additional services needed:
No additional hardware or software is needed to use i-Ready.
To ensure effective use of the program, all i-Ready district partners have ongoing access to Curriculum Associates' award-winning customer service. This includes dedicated support from the company's Customer Service team, professional development experts, partner success managers, sales representatives, and Technical Support team. Educators can also access a myriad of self-help tools at their convenience with online learning modules, implementation support resources, and embedded help in i-Ready Connect.
This ongoing service continues to help districts and district leaders increase efficiencies and support teachers in their use of i-Ready.

What makes i-Ready unique?
i-Ready is unique and effective because it was built to tie assessment to instruction using a single platform. When assessment and curriculum aren't connected, it is harder for educators not only to interpret student data, it is also harder for them to address areas of need for each student.
Once teachers have student assessment data that indicate the grade level placement of students, they can continue to teach grade-level content to keep students on track, and they can plan for students who are not yet proficient.
In addition to this, i-Ready is unique because it is always improving to help support – and accelerate – teaching and learning. This results in new feature releases, which are based on teacher feedback and always completely free to users, happening every month.
Updates for 2023 focus on inspiring instruction, supporting every student, and accelerating achievement. Included in these updates are:
Engaging new Math lessons for Grades 5-8 with an increased focus on conceptual understanding, richer feedback, and opportunities for students to actively demonstrate their knowledge.
The For Families report provides access for caregivers through the student dashboard to promote stronger home-to-school connections and offer a timely distribution solution.
Enhanced growth and performance reporting for district and school administrators with Diagnostic window selection to better inform resource planning and prioritize actionable next steps.

Characteristics:
i-Ready encompasses a number of instructional design principles and was built specifically to:
Give students agency over their learning. An active experience, with less talking and more doing, motivates students to take ownership of their learning.
Let students dive right in. Starting a lesson with a challenge engages students far more than passive instruction.
Build responsive instruction. Providing the right amount of practice and instruction at the right time keeps students motivated and working at the most efficient pace.
Encourage productive struggle. Instruction that allows for failure but provides a path to success enhances student learning.
Provide strategic scaffolds. Supports and tools that help students access what they're learning to empower them to take ownership of their learning and increase their independence.
Speak authentically to a student's experience. Culturally relevant, thought-provoking, and age-appropriate instruction increases student engagement.
Provide incremental positive reinforcement. Rewards and encouragement incentivize students to achieve their learning goals.
Use modeling to visually demonstrate new or challenging activities and content. Modeling helps students access new content and supports students who are learning English.
Make learning the primary engagement lever. The challenge of learning motivates students far more than characters or storylines.
Be intuitive. A simple, uncluttered screen with a clear call to action reduces cognitive load and increases success.
Provide supports for all learners. Language development strategies, culturally responsive teaching principles, and strategic scaffolds help every learner succeed, especially English Learners.

Here's what users are saying:
"I love that [i-Ready] is easily accessible whether teaching from in the classroom or virtually. Each concept builds on the next. It also develops concepts as students' progress. I enjoy that the homework books are very similar to what is taught in class, that way students see some familiarity and take responsibility for their learning. Finally, I enjoy the learning pathways available to students to work at their own abilities with read aloud capabilities...it's awesome!!!"
—Teacher, New Jersey
"The depth of i-Ready's diagnostic offers more information than any other diagnostic/universal screener we have ever used."
—District Level Administrator, Tennessee