itopia CloudApps Classroom revolutionizes modern education by seamlessly bridging the gap between technology and affordability. Their innovative solution empowers educators to deliver high-quality, tech-driven learning experiences without straining budgets. With CloudApps Classroom, students gain access to a diverse range of 150+ industry applications critical for Career Technical Education (CTE) and various certification programs. Whether they're engaging with graphics-intensive tasks like video editing or 3D rendering, or working on standard applications, our platform ensures a smooth, high-resolution experience from any device, anywhere, at any time.
Setting up CloudApps Classroom is a breeze, taking just minutes and eliminating the need for costly hardware or extensive IT support. With pricing starting at an accessible $39 per student per year, itopia CloudApps Classroom accommodates districts of all sizes, making high-tech education universally attainable. The system seamlessly integrates with Microsoft and Google authentication, enabling the convenience of single sign-on. Additionally, it offers rostering capabilities via Google Classroom, ClassLink, or direct assignment. These integrations enhance user experience while streamlining administrative workflows.
By facilitating quick onboarding, empowering educators with insightful administration tools, and supporting students' learning journey from start to finish, itopia CloudApps Classroom is a game-changer in modern education. Experience the future of learning today.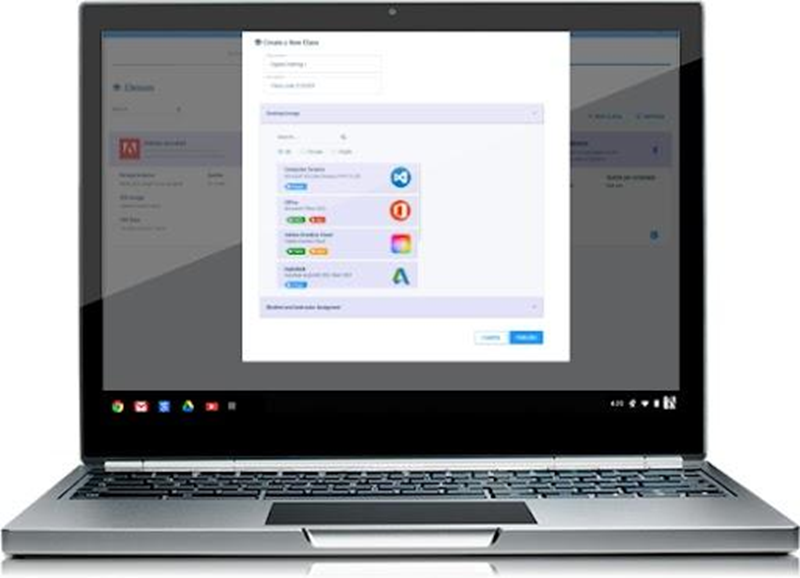 Formats/platforms used:
150+ industry applications, such as: Adobe CC, Autodesk, SolidWorks, Project Lead the Way, Blender, Unity, and more. We offer Single Sign-On through Microsoft and Google, and have integrations with Learning Management Systems Clever and Classlink.

Primary URL:
https://www.itopia.com/students

Problem solved:
The product, itopia CloudApps Classroom, addresses the critical issue of the app gap in education, ensuring equitable access for all students regardless of their socioeconomic backgrounds. This innovative solution bridges the divide by offering affordable, seamless access to over 150 industry applications, enabling high-tech learning experiences that were previously out of reach for many. By eliminating the need for expensive computers and technical support, we empower educators to provide students with anytime, anywhere access to essential tools for Career Technical Education (CTE) and certification programs. This not only enhances learning outcomes but also promotes equal opportunities, allowing every student to explore and excel in modern education. CloudApps Classroom is a powerful tool in leveling the playing field and breaking down barriers to advancement, enabling all students to thrive in the digital age.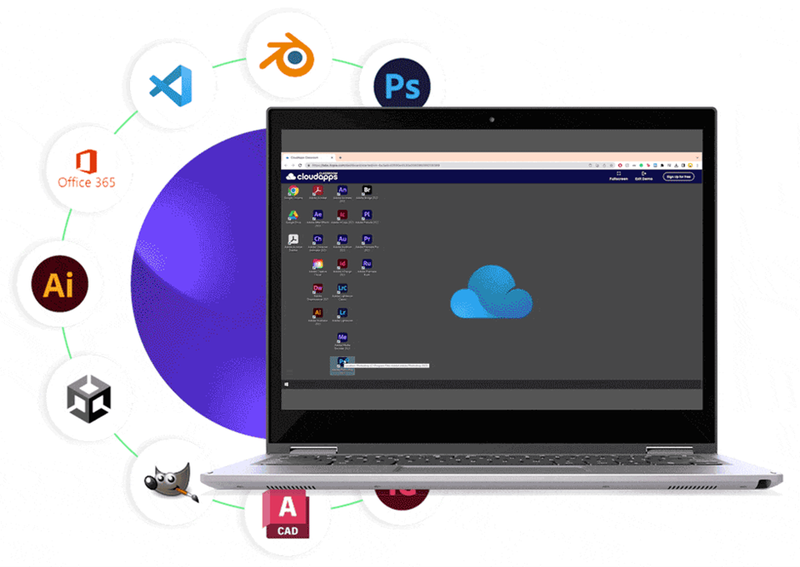 Grade/age range:
Any students enrolled in Career Educational Technology (CTE) programs. Generally from Middle School onwards.

Core, supplemental or Professional Development:
itopia CloudApps Classroom primarily caters to fostering students' professional development. By ensuring equitable access to over 150 industry applications, the platform empowers students to engage in career-focused, high-tech educational programs. This emphasis on accessibility and equity enables learners to acquire essential skills and knowledge, preparing them for success in their chosen fields. CloudApps Classroom effectively bridges the gap, allowing students to explore and excel in career technology pathways, ultimately enhancing their professional development prospects.

Subject/topic or standards:
itopia CloudApps Classroom is a versatile platform that can be mapped to a wide range of subjects, topics, and standards within the realm of Career Technical Education (CTE) and various certification programs. The platform provides access to over 150 industry applications, which can be tailored to align with specific subjects such as graphic design, video editing, 3D rendering, programming, engineering, and more. CloudApps Classroom can be used to support standards and competencies set by relevant educational bodies and industry certifications. This flexibility allows educators to integrate the platform into their curriculum and tailor it to meet the learning objectives and standards of their specific CTE programs.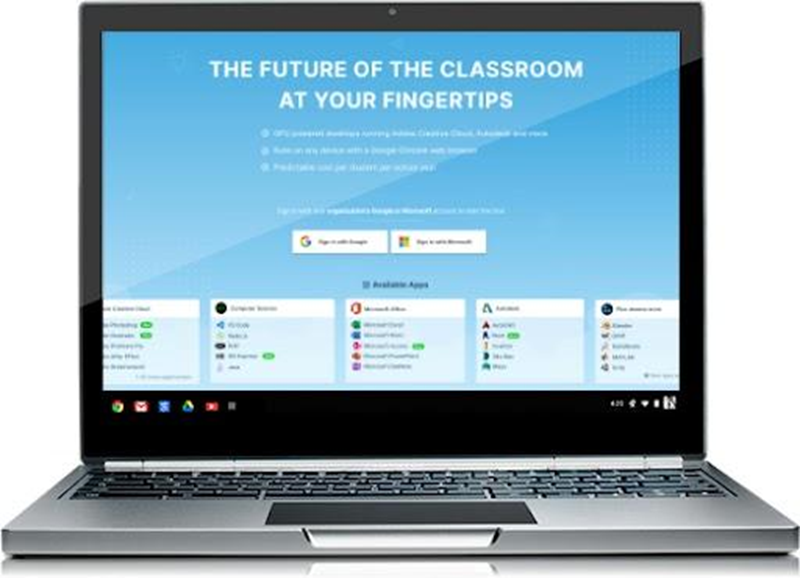 Lesson time needed:
itopia CloudApps Classroom is designed to be user-friendly and efficient, requiring minimal lesson time for setup and operation. Setting up classes and providing students with access to the curated applications can be done within minutes, allowing educators to swiftly integrate the platform into their teaching routines. Since CloudApps Classroom provides seamless, anytime, anywhere access to industry applications, the actual lesson time required depends on the specific curriculum and activities being undertaken. The platform is designed to enhance learning experiences by providing quick access to essential tools, thereby optimizing lesson time and maximizing student engagement.

Pricing model:
The pricing model is subscription-based with three tiers of access, depending on how many and what types of applications are required. The tiers range from $39-$89 per student per year.

Additional services needed:
itopia operates on a "bring your own licensing" model for the applications available on the CloudApps Classroom platform. This means that while we provide seamless access to over 150 industry applications, users are responsible for procuring their own licenses for those applications. These licenses enable users to fully utilize the features and capabilities of the applications within the CloudApps Classroom environment.

What makes itopia CloudApps unique?
Fully Managed: There is no cloud infrastructure for your team to set up and manage. They deliver a "Netflix" type of experience where they hide and eliminate all the complexity of delivering a cloud-based service.
Pre-Curated Labs: They build all the labs so your admins and teachers can just select which lab they want to launch in seconds. For example, they are building custom Labs for Project Lead the Way to support another large South Florida school system.
Flat-Rate Pricing: They eliminate trying to guess how much running the service in the cloud will really cost by offering the service at a flat rate price. This helps align with your budget and buying cycles without worrying about runaway cloud costs.
Proprietary Streaming Technology: itopia has developed a streaming technology that allows students to do video editing, 3D gaming and 3D Cad renderings directly from the browser with no lag. No downloads and all delivered 100% via the browser.

Characteristics:
The product was designed to provide a seamless and intuitive experience in the Google ecosystem and on Google Chrome.

Here's what users are saying:
"Itopia CloudApps worked great from the start. Myself and all my students work from home, so the fact they can access Photoshop or Illustrator from any computer is terrific."
--Julie Van Lohn, CTE, Graphic Design, Nevada Learning Academy
"The itopia platform gives our students a much better and more secure environment than conventional lab solutions–and allows for 24/7 access. Plus, itopia CloudApps is easy to use, and it only takes our teachers a few minutes to set up a new class."
--John Stile, CTO, Council Bluffs School District