Kami is an all-in-one classroom application that pairs with common classroom solutions and resources to enable digital collaboration between students and teachers, making K–12 learning personal, accessible and engaging. With over 40 tools and features, including imported multimedia, customizable drawing, voice and video comments, voice typing and read-aloud capabilities, Kami enhances classroom resources and curriculum. By leveling the playing field, all students—no matter their background or ability—can fully engage in learning. Print materials can become customizable digital resources teachers and students embrace with Kami's easy-to-use tools and features that facilitate dynamic instruction, live collaboration and real-time feedback. Kami is used and enjoyed worldwide, reaching more than 35 million users. The hearts and minds of the Kami team remain relentlessly focused on supporting the classroom environment where teaching and learning happens.

Formats/platforms used:
Platforms: Schoology, Canvas, Microsoft Teams, Google Classroom, OneDrive and Google Drive
Formats: Write, draw, annotate, comment, augment and enhance

Primary website URL: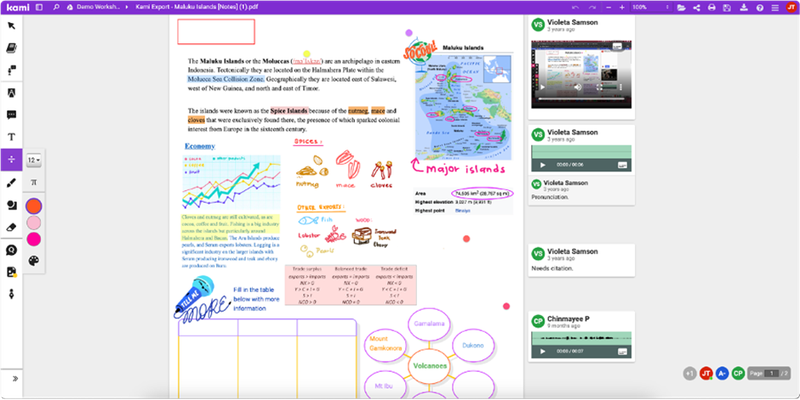 Problem solved:
Teachers have a myriad of instructional resources to use in their in-person and virtual classrooms. Organizing, adjusting and deploying these resources can be extraordinarily time-consuming. Kami serves as a teacher's workbench, where they can more efficiently and effectively plan and deliver exceptional instruction, and create, distribute, collect and grade assessments—all as a part of a seamless workflow benefiting all. For students, Kami increases student engagement, improves learning outcomes, saves time and is accessible and intuitive. Given its flexible collaborative platform, Kami has been used to reinforce teacher professional learning.

Grade/age range:
K–12

Core, supplemental or special needs?
Yes, core, supplemental and special needs.

Standards:
Teachers map activities that they develop in Kami with standards.

Lesson time needed:
It depends on how teachers design their lesson plans and activities in Kami.

Pricing model:
Kami is priced per user (teachers and students).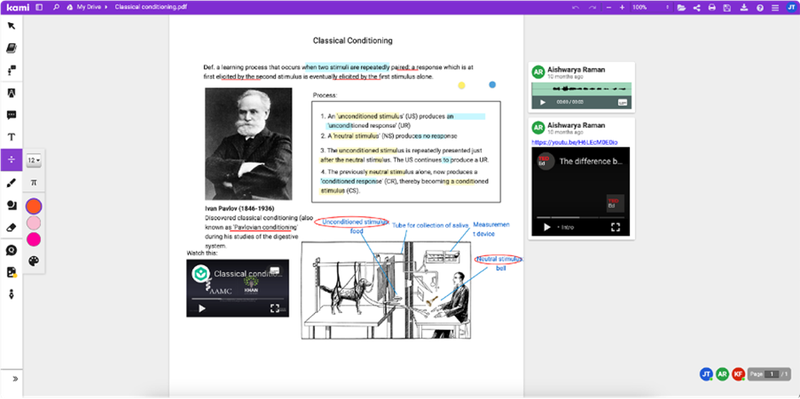 Additional services needed:
Kami is designed to integrate with existing learning management systems and seamlessly enhance existing classroom resources and curricula.

What makes Kami unique?
Kami is built to increase engagement and provide access to a range of tools to help students learn and show understanding in a way that works for them. Kami is reinventing the way that teachers and students interact within the classroom. Collaboration is encouraged and teachers can support students in real-time as they work and keep them on track. With Kami, students have access to more than 40 tools, including text, voice, video and screen capture. Kami supports a variety of formats allowing teachers to respond to students the way they know is best.

Characteristics:
As a way to support teachers in the classroom, Kami eliminates many of the manual administrative tasks that left teachers overwhelmed day-to-day, allowing them more time to spend 1:1 with their students and tailor their learning experiences that will further set them up for success. The platform ultimately reinvents how teachers operate in the classroom by providing tools for real-time feedback, personalizing engagement with students and entirely eliminating the need for extra filing and printing of materials. The platform enables the use of text, drawings, images, whiteboards, audio and video screen casting tools to support learning in-person or virtually. Kami seamlessly integrates with online platforms educators already use and allows them to provide feedback in a way that's tailored to each student.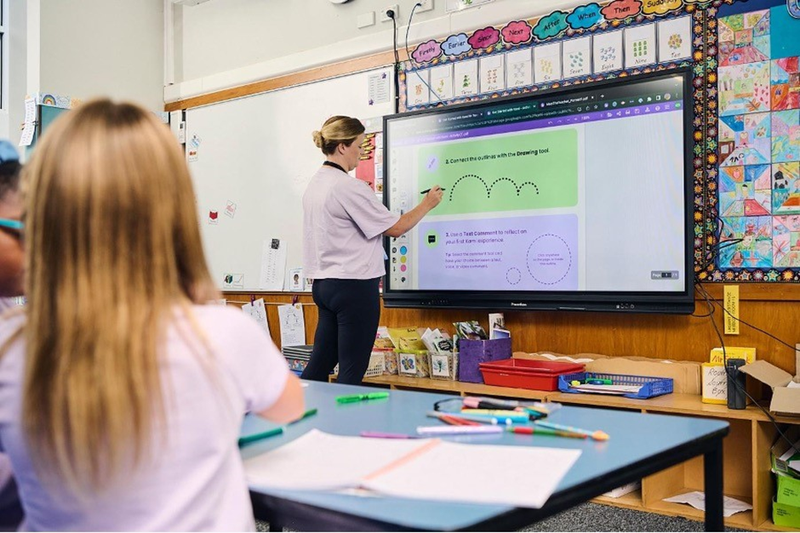 Here's what users are saying:
"All of our teachers are superheroes now—they have added all these extra powers and skills as they've been sling-shotted into e-learning…It's certainly an exciting time to be in educational technology that's for sure."
– JR Renna, MS, Ed. Coordinator of Educational Technology Parkland School District
"Kami has been a lifesaver both as a math teacher and a student. It has changed the way I teach as well as the way I read journal articles!"
– Rachel Salmon